We're positive you've heard of them before, but Fosway Group is Europe's #1 HR industry analyst and the only European-centric research and analysis that enables talent professionals to evaluate their vendor procurement options based on five critical factors.
And it's our privilege to announce that they've given Adway a coveted spot as Core Leader in their prestigious 2022 Fosway 9-Grid™ !
We're honoured to be featured in one of the industry's most trusted sources for winning solutions in the Talent Systems market. We may be a young company (founded in 2018), but our position on the 9-Grid™ shows that our performance is strong and our trajectory is soaring!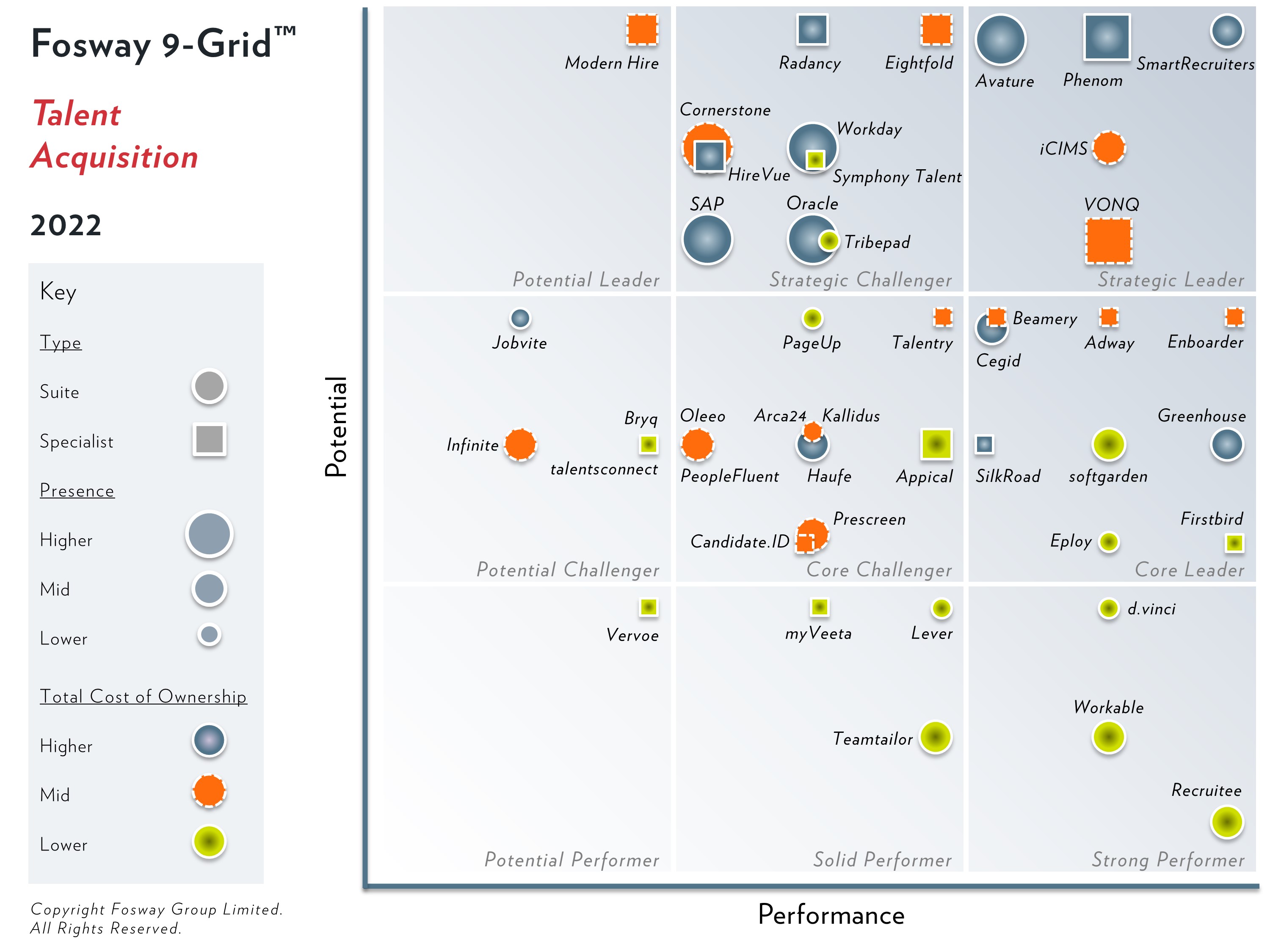 Keep reading to discover:
Why we were featured
What our unique position on the 9-Grid™ means, and
How our vendor solutions help enterprises build their future talent pools through

automated recruitment marketing


Talent Acquisition Trends & Realities
The 2022 Fosway 9-Grid™ is largely based on a variety of shifting factors and current trends in the TA industry.
The solutions (like Adway's) that are expected to drive the Talent Acquisition market into the future were designed with these complex dynamics in mind:


TA Strategy: Due to the pandemic, 92% of European corporations had to adjust their TA strategy

,

and most have made lasting changes.


Talent Attraction & Engagement: More than 77% of European corporations are expecting to increase their investment in

talent attraction

and engagement in 2022.


Quality of Hire: Quality of hire is at the top of these organisations' priority lists to ensure their people investment is effective and sustainable.


Talent Intelligence: Talent Intelligence has moved to centre stage.


Recruitment Marketing & Programmatic Advertising: There is a significant opportunity for companies to leverage

recruitment marketing

,

programmatic advertising and CRM.


Automation: By increasing

automation

,

organisations can free up recruiter time, which is still the most effective weapon for truly engaging with candidates.


Diversity, equity and inclusion (DE&I): Nearly 60% of European TA teams want to use DE&I

more when attracting talent. But, to be effective, DE&I practices must be embedded in all steps of the recruiting funnel.


Where Adway Sits on the Fosway 9-Grid™

Our Position: The Core Leader Zone
As a member of the Core Leader Zone, Adway has the highest levels of customer and market performance and provides a strong suite of capabilities to our clients across the world — from attract to hire.
We have a proven track record of enterprise wins, customer delivery and customer advocacy and our focus remain strong on opportunities where we can provide robust and differentiated solutions to our clients.
Our Vendor Rating: Specialists in Social Recruiting
As specialists in Social Recruiting, we help organisations use Automated Social Recruiting Marketing to navigate their candidate journey with an always-on approach that draws from the best practices of successful e-commerce and user-experience strategies.
Our intelligent software is constantly learning how our clients' talent-of-choice interacts online, so they can stay top-of-mind as their preferred employer when it comes time to apply.
Our "Apply" software then creates a seamless candidate journey that increases candidate conversion rates and decreases abandoned applications.
The result? A talent acquisition process that's way simpler, way smarter, with way more talent.

How Adway Meets Fosway's 5 Critical Factors
The Fosway 9-Grid™ is the only market analysis model that's used to understand the relative position of solutions and providers in the Talent Systems market.
It's based on five critical factors, and we'll show you how Adway was selected for each one.

1. Potential
This factor of the 9-Grid™ distinguishes the solution's scope and sophistication.
Adway is a Mid-Potential Solution, meaning our solutions are broadly reaching, highly sophisticated and rich enough to meet the majority of the needs of our enterprise clients.

2. Performance
This 9-Grid™ factor comprises Market Performance (how often a vendor gets short-listed, wins and/ or grows faster than the market) and Customer Performance (how well a vendor delivers, how deeply their customers extract value from their solutions, and how much customer advocacy does the solution provide).
Adway is a Higher-Performance Solution, meaning we frequently win competitive tenders from enterprise corporate customers. We achieve higher levels of customer impact and advocacy when compared to similar solutions in the market. And we consistently make positive impacts for our customers through the speed of implementation, business return, service quality and recurring customer value.

3. Presence
This critical factor is about the size of a vendor's customer base and their presence in the overall market.
Adway is seen as a Lower-Presence based on our newness in the market and niche as a Specialist in Social Recruiting. Although we're a relatively fresh face in our space, we're positioned toward strong future performance and growth with a proven track record of success since 2018.

4. Total Cost of Ownership
This factor represents the full cost of acquiring, implementing and operating the solution (typically over a 3 year period).
Adway has a Mid-Cost of ownership for both internal and external costs.

5. Future Trajectory
This factor encompasses the positioning of the vendor based on the current market's trends as they relate to the vendor's Performance and Potential.
Adway is trending to further increase our customer advocacy and recognition in the market, with no signs of slowing down anytime soon, as the secret ingredient to success — Social Recruiting — starts to skyrocket across the TA industry! The Fosway Group expects that, in the future, we will be short-listed even more frequently and able to deliver better and better solutions to our clients around the world.
To recap, that's:
Potential → Mid-Potential Solution
Performance → Higher-Performance Solution
Presence → Lower-Presence Solution
Total Cost of Ownership → Mid-Cost Solution
Future Trajectory → Increased Recognition & Customer Advocacy based on the trending success of Social Recruiting

Download the Full Fosway 9-Grid™ Report
Do you want to take a deep dive into the entire report, so you can study up on all the solutions and providers in the European Talent Acquisition Systems market?
Click here for the full download.

Get Simple, Step-by-Step Social Recruiting Guidance
Are you interested in learning more about Social Recruiting from our team of designated talent partners and Social Recruiting specialists?
Check out our Ultimate Guide to Social Media Recruiting!
It's your everything-you-need-to-know guide on how to succeed with Social Recruiting right where you are, with what you have, starting today.
About The Fosway 9-Grid™

Fosway Group is Europe's #1 HR industry analyst. The Fosway 9-Grid™ provides a unique assessment of the principal learning and talent supply options available to organisations in EMEA. The analysis is based on extensive independent research and insights from Fosway's Corporate Research Network of over 250 organisations, including BP, HSBC, PwC, RBS, Sanofi, Shell, and Vodafone.

Visit the Fosway website at www.fosway.com for more information on Fosway Group's research and services.