Even the smartest talent acquisition team can fall into the trap of relying on incomplete data.

In the past, evaluating recruitment marketing campaigns has been relatively straightforward: traffic data comes into your ATS or analytic tool, and UTM links help identify what sources work best to drive that traffic.

Here's why this approach might trip your strategy up - and what to do instead.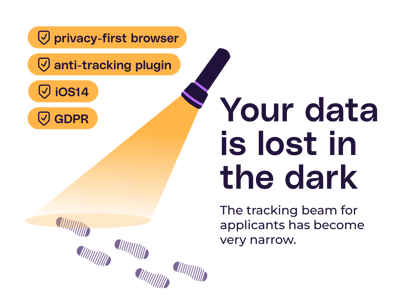 Your ATS cannot track data that is not there
We are smack dab in the privacy-first era. GDPR was just the beginning: privacy-first browsers, anti-tracking plugins, and the iOS 14 update (which greatly expanded tracking prevention) all amount to a simple truth with big consequences.

👉 Less and less user traffic can be tracked.

👉 Cookie-based attribution is becoming a thing of the past.

👉 And, unless you own the entire candidate journey online, very few points in that journey can be connected to give you a coherent picture.
​​
What does this mean for you?
If cookie-based traffic is what you currently rely on to evaluate recruitment marketing campaigns, you need to find a new approach – fast.

Let's say you run a fantastic recruitment campaign on social media, driving traffic to a specific vacancy landing page.
Your UTM tagging might tell you that Campaign X drove 20 visits to that page, and Campaign Y drove 10. Or, that campaigns together with Partner A netted 200 visits, while Partner B only gave you 100.
Sounds clear cut! And it used to be.

But here's the thing: your ATS or analytics tool can only show you the data it can actually capture.

And not all users will accept being captured today. In fact, up to 90% of visitors will say thanks but no thanks to cookies, if given an explicit choice1.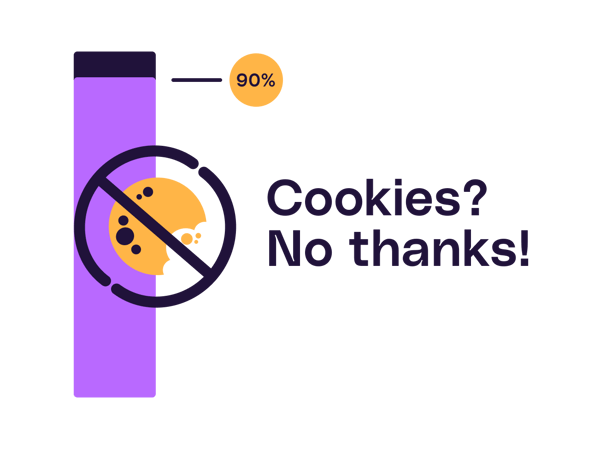 So when it comes to your data, those visitors?
Poof, gone.

And depending on the volume of traffic you have to work with, even a small number of incorrectly attributed visitors can skew the picture dramatically. Leading you to abandon what actually works, and invest more in channels that perhaps don't.

Now combine that challenge with…
Your candidates don't apply in a straight line
Ah, the bane of data driven marketers and recruiters everywhere.
​​​Cross-device journeys.

It is tempting to think that because tracking tools do give us some attribution data (information on where our applicants come from), that this data is also representative of their typical candidate journey.

In truth, getting a true picture of cross-device and cross-channel behavior is pretty much impossible today. ​​​​​​And when we forget this, we make poor decisions based on incomplete data.

Because candidates do not engage with recruitment marketing campaigns in a straight line. Seeing a job ad, clicking on it, then filling an application out right away… on the same device? A dream scenario for recruitment marketers, but it simply does not happen.

This is especially true for passive candidates that interact with your campaign on mobile, yet are asked to upload their CV at the point of application. Social recruitment marketing is highly effective - but even the most active job seeker will not have a CV prepared on their phone and ready to go.
Actual candidate journeys span across weeks and see candidates jump between devices, social channels, and physical contexts.

Let's say our ATS or Google Analytics tell us that 80% of applicants came from organic search as their "last touch" attribution – that is, the last known touch point before a submitted application.

What this data doesn't show, and simply can't tie together for us (because we cannot track each candidate across touch points), is what the first and second and third touches were… and how these contributed to the final conversion.

This means our analytics tool didn't capture what came before:
The employer branding content your candidate saw on Instagram, on their work mobile.

The vacancy ad that popped up on their Facebook, while eating lunch and using their private mobile.

That quick visit to your career page on their work laptop…
And finally, they are at home, searching for "that cool company + that job I saw" on a home desktop with their CV ready to go.

Wow - what a journey they've had, and what a great job your employer brand ads did! You selected just the right channel mix for your social recruiting.

But to your tracking tool, this exact journey will look like organic search is your best channel – and as if your carefully designed social media campaigns didn't have much to do with it at all.

This is especially important to keep in mind when working with passive candidates!

Passive candidates make up 70% of global talent, and are the life blood of smart talent acquisition. Your top future candidates are thriving in their current role, and not actively looking… but the majority are still open to their next opportunity.

This large, untapped, and highly qualified talent pool does not browse job boards. It can only be reached at scale through social recruitment marketing.

Want to read more about how to reach passive candidates, and why social media is so effective? Have a look at our Ultimate guide to social recruiting.

"Passive" and "social" are the key terms here: these candidates are interacting with your recruitment marketing primarily on mobile, as they scroll their social feed. And unlike active job seekers, they are not willing to jump through any hoops.

You need to seduce them by building a compelling journey across social channels, just as any marketer would. And with that journey comes our cross-device attribution challenge.





Passive candidates are on mobile – all the way up until it's time to apply.

Online application processes are still poor, sometimes even impossible, on mobile. Many require so many steps to complete that just sending in an application is something to block off time for.

Applicants (sadly enough) have come to expect this.
(The good news is that fixing your digital funnel is an incredible opportunity. Read more and get some actionable steps in our Guide to digital candidate experience!)

As a consequence, candidates of all stripes will shy away from completing their application on mobile. Most jump to desktop, and when they do – they don't take their tracking data with them.

So what can we do instead? How do we know what works?
Understanding that we cannot rely on traffic data alone is a great first step. But how do we then use it? Is there any way to draw conclusions as to what works, and what doesn't?

The answer lies in benchmarking and statistics.

Simply put, we may not be able to take traffic data at face value anymore, but we can still make sound comparisons – if we do it right.

Always have a baseline to compare
If you want to get recruitment marketing data exactly right, the truth is a bit more brutal: you will need some help from data scientists and advanced tools along with massive volumes of data, using a truly representative sample to infer actual results.

If you work with us, for example, we offer all three – along with access to historical data across millions of ad campaigns, all industries, and all talent pools.

This makes it fairly easy for us to draw accurate conclusions about what channels and creative assets work for a specific client, and the application numbers to expect per recruitment campaign.
But even our analysts need that vital baseline to give customers a clear picture.

A baseline means you have taken stock of what your starting point looks like, in terms of recruitment KPI - how many applications do you get, on average? How fast is your time to fill? What is your average fill rate? What is your cost per click, and per application?
Armed with a baseline, your analysts can leverage the data in predictive machine learning to give you a sense of what touch points contribute the most to your results, and predict what results you are likely to get when investing in a specific channel mix.

Use control groups to validate new strategies
​​​But you can also start making conclusions on your own, by using before and after comparisons together with control groups for simple analysis.

An example approach would be to expose equivalent vacancies to a different treatment. Basically, you may have 20 vacancies to fill that are by and large identical – and try your new approach on 10 of these.

Perhaps you want to see what happens if you add Facebook retargeting, or use a different creative. Perhaps you let a new recruitment marketing partner do their magic. It is of course best to only change one thing at a time, but the most important thing is to make no change to the control group - in this case, the 10 vacancies you handle exactly as usual.

If you use Adway specifically, it can be as simple as choosing to "boost" half of your vacancies on your selected channels - and seeing the impact on applicant volume, fill rate, and time-to-hire for boosted vacancies.

This allows you to compare apples to apples once the recruitment campaign is done. Did your experiment group perform better than your control group, once statistical significance is reached (you have enough data to confidently say it will apply on a larger scale)?

If it did, perfect! You know to invest in this approach. And if it didn't - that is great, too. It means you can say with some certainly that this specific approach didn't work for this specific type of vacancy.

Taken across your entire recruitment marketing, this is a fantastic steering tool.

The secret to sound conclusions? Data – lots and lots of it
You are probably thinking, oh gosh, that sounds good… but we don't have the time and resources to do this for every single vacancy and strategy!

And you are absolutely right. For a talent acquisition team recruiting at scale, you need to work with data at scale. The simplest and best way to learn what works (and what doesn't) to optimise your recruitment marketing over time, is to automate social recruitment marketing – so you can generate and analyse data across vacancies in a structured way.
And ideally, work with a solution that runs automated recruitment marketing for many, many, many clients.

Taken together, this allows your partner to control for talent specificity, industry, geographical as well as period fluctuations.

They will be able to tell you whether that 15% drop in applications for customer service roles is down to your specific brand, due to seasonal trends, or currently an issue across your particular industry.

So what's the main takeaway?
We may be biased – but of course, we primarily recommend working with our smart recruitment marketing software and trusting our data experts to give you the best possible insights into the fantastic results you will get.

If you are not quite there yet, however, these are the three most important points to take with you as a data driven talent acquisition professional:

✅ Understand your "invisible" traffic in a cookie-based context
✅ Establish your performance baseline
✅ Use representative comparison data (and lots of it) to infer the full picture
And of course - ask for expert help when you need to!
PS. Say hello to Nostradamus, our predictive tool for recruitment marketing
Our latest innovation? A sophisticated AI that can predict bottom line results for your recruitment marketing budget, based solely on accurate first party data and millions of historical advertising data points.

No need for cookies. No need for tracking.
And far more accurate predictions.


Predict your advertising outcomes with statistical accuracy
See expected fill rate and time-to-hire
Compare different talent pools
Invest your budget with confidence
Easily report on your business results
Track and visualize all social recruitment campaigns in one place
Wouldn't it be amazing to know exactly what moves to make to get a vacancy filled? Soon, Adway customers can!