A vast majority of employers are struggling to navigate today's highly competitive recruitment landscape, citing a lack of available skill sets as one of their biggest challenges. Despite the temporary wrench thrown into the global economy by the COVID-19 pandemic, companies are still coming up empty-handed in their recruitment efforts.
In another lifetime, businesses were overflowing with resumes from active candidates seeking an open position within their organization. Today, however, that's simply no longer the case. A passive job seeker is a professional who is currently employed or not actively pursuing new career opportunities. Yet, 82% of passive job seekers say they would entertain a career change if the right opportunity came along.
So, what does this mean for employers? If your recruitment and hiring efforts are solely focused on attracting active candidates, you're losing out on a large pool of high-quality talent. Essentially, you're opening the doorway for competitors to swoop in and scoop up these valuable workers. Scores of employers invest their time, money, and resources in things like career pages or job listing sites, places nearly only active candidates visit. They should be allocating a large portion of their efforts towards recruiting the massive group of passive candidates.
Here's a look at why companies should place a greater emphasis on attracting passive candidates.
1. You Know Them Inside & Out
I know what you're thinking, "What the heck does that mean?" Hear us out: as a part of your company's talent acquisition and recruitment marketing strategy, you created personas or your ideal candidates, right? Well, from that perspective, you've already performed a ton of research on your target audience and have a boatload of information at your disposal. Not only can you leverage that knowledge to create highly relevant content, but you can also use it to inform how you speak, interact, and build relationships with prospective candidates. Just like in sales, having conversation starters tailored to a specific individual's interests is much more effective than a generic greeting.
2. You Can Start Creating a Robust Talent Pipeline
When you're targeting a wider range of talent, you'll be able to effectively build a pipeline of high-quality potential candidates. For example, your company may not have any IT-related positions open at this time, but when a spot becomes available, you'll already have a list of viable individuals who have expressed interest in your company.
To help successfully build this pipeline, your talent acquisition team must first ensure passive candidates have multiple ways to interact with your company outside the application process, such as online or hosted events. Here are a few suggestions to help you get started.
Initiate a Conversation on Social Media. Whether you leverage custom content, curate articles, share industry trends, have a little fun with GIFS or images, make sure your social media accounts are giving your brand adequate visibility. When your pages are engaging and provide thought-provoking or valuable content, it'll encourage passive candidates to get involved in the conversation through comments and shares.
Be Where the Candidates Are. If you automatically assume people are visiting your website to learn more about your company, you're doing yourself a disservice. Be cognizant of other channels and platforms where your target candidates spend their time - such as Google, Facebook, Instagram, Twitter, and more.
3. The Numbers Can't Be Ignored
Let's face it: there's no argument to be made when there's plenty of statistics in favor of passive candidates. In case it was overlooked earlier, we'll remind you that 70% (yes, 7-0 percent) of the global workforce is considered passive job seekers. Consider the following breakdown of percentages provided by LinkedIn's "Inside the Mind of Today's Candidate" survey.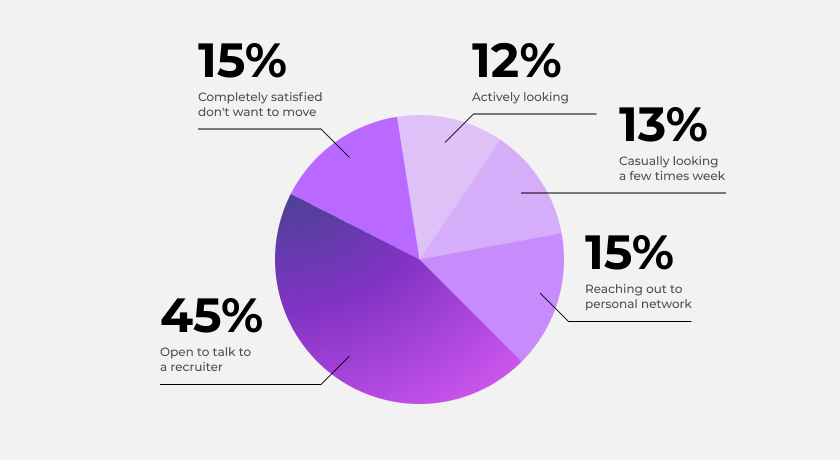 The numbers speak for themselves. There's an abundance of passive talent just waiting to hear from you. If you build up your presence and following on social channels like LinkedIn, you can simply craft a killer status update, put it out to your network, and see what kind of interest or referrals it generates.
4. Skills, Skills, and More Skills
When you're working with passive job seekers, they're already employed, meaning you can do a little research on what their role entails and obtain concrete proof of where their expertise lies. You can also strengthen your knowledge of their skills by speaking with references, like current trustworthy teammates, or requesting a portfolio outlining projects they've worked on. It's safe to assume if they've been working with a known and reputable company for a while as a marketing specialist or Python programmer, then you know they've got just what you're looking for.
5. Get a Leg up on the Competition
Do you want to battle for an active candidate who is interviewing with several of your competitors or would you rather invest your time in gaining the interest – and eventual employment – of a passive candidate? When you focus your efforts on passive job seekers, there's no race to secure one specific person who everyone is vying for. There's no endless cycle of counter-offers. Instead, you can spend time building credibility and fostering strong relationships with workers who will not only be an asset as employees but can serve as a lucrative referral source as well.
Passive Candidates Will Change the Game for Your Company
…in a good way. Not only will you save precious time, money, and resources, but you'll have access to a high-quality pool of candidates. You'll also be able to tap into a broader spectrum of potential hires, which is essential in today's tight labor market.